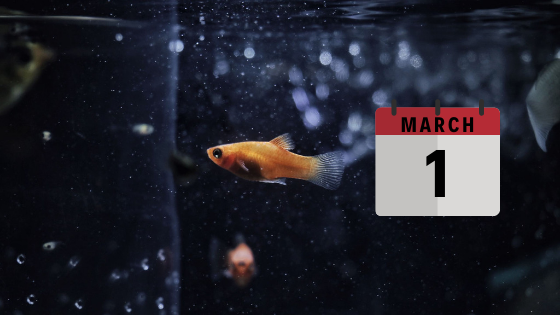 How 1st March 2016 Will Affect You, and What Can We Do?
The current state of our aquarium trade
How will 1st March 2016 affect us?
What can we do about it?
Our ornamental fish trade is in a very precarious state at present. Retail in general is suffering throughout Australia and combined with increasing online sales many shops are struggling. However, pet and aquarium shops do have a few advantages in that dealing with livestock requires a degree of specialised skill. The care and maintenance involved mean that those who have the knowledge, experience and skill to keep their fish in top condition will have a huge advantage over the less experienced.
In recent times many independent aquarium and pet shops have been faced with another detrimental factor. The rise of the 'chain pet stores' and their aggressive growth strategies place extra pressure on the independent operators. However the independent operator can overcome this using several strategies:
Customer service that provides experience based knowledge to their customers. Being able to provide the customer with advice and knowledge about their purchases and the subsequent support will result in repeat business. Furthermore, most customers would buy products from someone who has detailed knowledge and can provide customised advice to help get the best outcome for them;
Purchasing livestock from wholesalers who do not have contracts with the chain stores gives you a competitive advantage over the chain stores who receive pre-negotiated discounts. Sourcing your livestock from smaller wholesalers is often much cheaper and may give you access to different stock to offer your customers.
Selling different fish/niche fish which the chain stores do not and cannot supply. I find that anything different sells. Customers often get bored of the same types of fish in the same types of tanks;
Internet and social media advertising can be a great tool and can easily be done using websites such as Gumtree, Petlink or Facebook. This is free and will direct customers straight to your store.
I myself, being the owner of a smaller independent wholesale business and being involved in the wholesale of fish for the past 10 years (and prior to that an avid aquarist since I could walk), have seen a huge change in the industry. The competitive nature of today's business has resulted in many losing sight of the long-term future of this industry. What is now needed in the industry is a coordinated approach towards long term sustainability. This will require all those involved in the industry treating each other ethically and with respect, develop a coordinated long term, multi-faceted strategy for the future of our industry.
Another huge hurdle that this industry has to overcome is the almost certain introduction of testing for megalocytivirus. This will be introduced by the Australian Government on 1st March 2016 and will greatly impact the ornamental fish industry in Australia. Many of the importers (including myself) have willingly participated in trials, providing fish to be sampled at our own cost. This involves Australia wide testing of imported fish to document the actual percentage of infection of this virus.
As PIAA has mentioned in their recent brochures and fact sheet(http://piaa.net.au/why-many-of-your-pet-fish-will-cost-up-to-four-times-more-after-march-2015) this testing of fish is very expensive (around $2000/test) and can only be undertaken by killing the fish and extracting their livers. Due to the sheer number of fish required to be killed for testing, low volume high end fish would not be a viable import. This would mean fish being imported in lots of 20 fish would have 19 killed for testing, 50 fish would have 35 killed for testing. This would mean the end for some types of discus and cichlids.
Other fish imported in bulk would still be affected by this testing. For example, you would have to import say 2000 fish to sacrifice 58 fish. It is only when you import in these massive quantities that there may be a chance to make it viable. This in effect could negatively impact smaller importers and hence reduce competition as only the bigger operators would be able to import on this large scale. This restriction on trade and the resulting decreased competition within the industry is predicted to increase fish prices up to four times.
I believe that the Australian Government should be looking at funding a scheme to promote ornamental fish breeding here in Australia to supplement the inevitable loss of many popular species of fish that may be lost if this change occurs to the industry. Developing a local industry has lots of advantages including reduced bio-security risks and increased employment opportunities for Australians. The Australian Government needs to examine existing legislation which makes ornamental fish farming prohibitively difficult. This process needs to be streamlined and funding of grants provided to assist this industry.
The demand for ornamental fish in Australia is only going to increase in the coming years as our population increases. With many more people living in apartments in our cities the ideal pet of choice is indeed an aquarium fish. Furthermore, as more Asians immigrate to Australia they bring with them their culture of keeping ornamental fish as a source of positive energy and well-being and a sign of prosperity. These points mean there is a chance for this industry to boom again.
Australia has a great Aquaculture industry which supplements our local food fish industry and more so exports its top quality product overseas. This shows we have the skills and resources here in Australia to keep and produce fish. Aquaculture of ornamental fish on a per kilo basis would have to be one of the highest value and most profitable items for farming. We just need a helping hand from the government to 'jump-start' this industry and who knows maybe one day we in Australia could be captive breeding endangered fish species for release back into the wild all over the world (we have had great success with Murray Cod, Barramundi, Trout Cod etc). Australia could indeed be a future 'gene bank' for threatened endangered fish species worldwide from areas such as the Amazon and Congo whose aquatic fauna is being destroyed by development and industry on their shores and even on their waters. Many of these species have not even been scientifically identified and documented yet. The time is now for us to act! The future can be moulded by our hands.
Julian Wong B.Sc. Hons
JMW International Pty. Ltd. t/as Aquatic Solutions