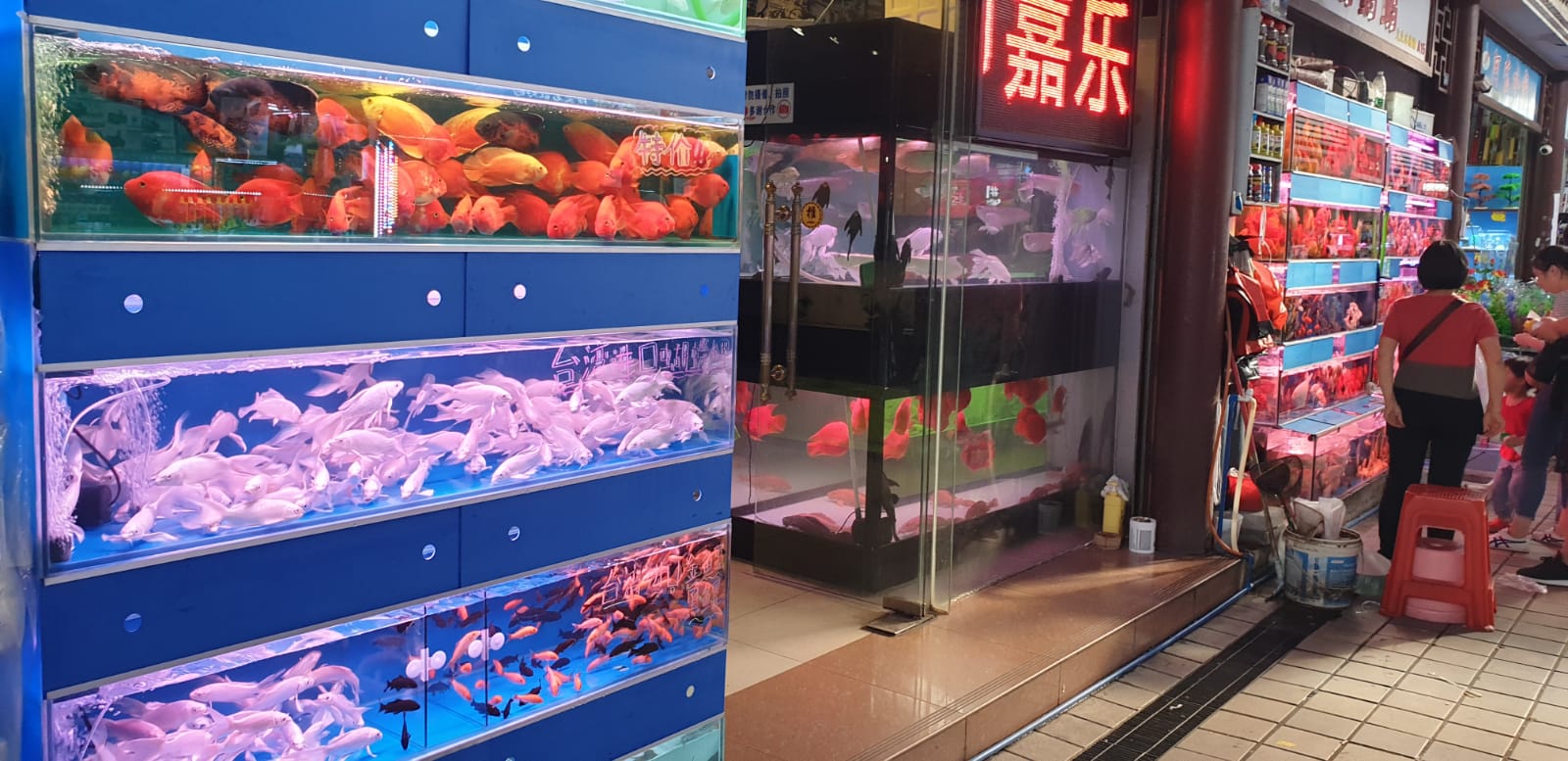 Julian's Travels - Part 1 Overseas for Aquarama
In order to keep up to date with international trends and new products and ideas entering the market I usually try to attend Aquarama and other trade shows whenever I can. This includes visits to public aquariums and aquarium stores on almost every holiday I take (to my wife's dismay!)
I was fortunate enough to be able to have a couple of weeks off from my busy schedule to attend Aquarama this year. For the first leg of the trip i had to stop over in Hong Kong and check out the famous Tung Choi Street (Goldfish Street). This street is packed with a multitude of aquarium stores selling any and all species of aquatic life one could ever dream of from unusual snail and shrimp species to rare land Tortoises up to Arowana and even Arapaima!


Even in Hong Kong I have noticed a little bit of decline in aquarium store vendors. Over my past 4 visits to Hong Kong there has been a slow but steady decline with less of a presence of aquarium stores and an increase in stores selling dogs, cats and fancy rabbits and even mobile phone accessory stores. This might be due to several reasons such as increasing rent in the area? A growing interest in larger companion pets? Or more likely the global issue of phone addiction? Whatever the reason, it is certainly not booming like my initial visit over 10 years ago.
I then caught the train for the 2 hour journey from Hong Kong to Guangzhou. The new host city for Aquarama after it was purchased from Singapore by the Chinese and moved to Guangzhou. This year was the second time this biannual event was held in Guangzhou. Guangzhou is an absolutely huge city! It is currently the 3rd biggest city in china with a population of well over 14 million people! In this region the aquarium industry is continuing to grow and develop and therefore an ideal location to host this event.
Day one of Aquarama saw me venturing through all the stalls looking for new products and ideas and searching for new fish suppliers and farms. To my surprise the visitors to the event was predominantly made up of Chinese with very few westerners making the trip. This may be due to language barriers and difficulty travelling around China without speaking the language.
I don't know what I would have done if my good mate, translator and tour guide didn't speak Chinese or accompany me on this trip. Another possible factor could be the size of the show which was honestly not as big as I expected and similar if not smaller than when it was held in Singapore. I think most people these days hold off for Interzoo Germany or CIPS Shanghai. Which are massive expos in comparison.
Day two of Aquarama I decided to skip since I got though all the stands on day one and went to visit the renowned aquarium fish market in Huadiwan. This was truly an eye opener as this hugely massive setup of aquarium stores selling anything and everything to do with aquariums was there. Basically this was Hong Kong at its peak ten years ago on steroids. Over twenty times bigger than Hong Kong's fish market it took me over 5hrs just to scratch the surface of this truly amazing place. I just didn't have the time or stamina to go and visit each store so basically just scanned around looking for things of interest.
In Hong Kong the average stocking density of fish was 2-3 times what I would keep in tanks at Aquatic Solutions comfortably. However in Guangzhou they would up this to approximately 5-6 times my stocking density. Aqua-scaping seemed to feature heavily in the market with a whole corner of the market setup and devoted for aquatic plants.
Day 3 of Aquarama saw me venture back to the show to catch up with some of my current suppliers and to follow up on some of my previous enquires to new suppliers and products. This time I also had a chance to also check out all the competition fish such as the Goldfish, Discus, Arowana and Bettas.
All in all I believe this leg of my trip was really worthwhile as I have had the first hand chance to experience how others do what i do from a new perspective and this has given me so many ideas of how we at Aquatic Solutions can make improvements to our operations to continue to provide you the best fish around at the best prices.
For the final leg of my trip I am heading to Taiwan. This is another county where the aquarium trade is still taking off and they are doing some wonderful things with fish, shrimp and aquarium products.
So keep tuned to the second part of my trip! (To see more photos and keep up to date with us realtime. Follow and Like us on our facebook page) www.facebook.com/JWMaquaticsolutions/ 
Julian Wong B.Sc. Hons
JMW International Pty. Ltd. t/as Aquatic Solutions