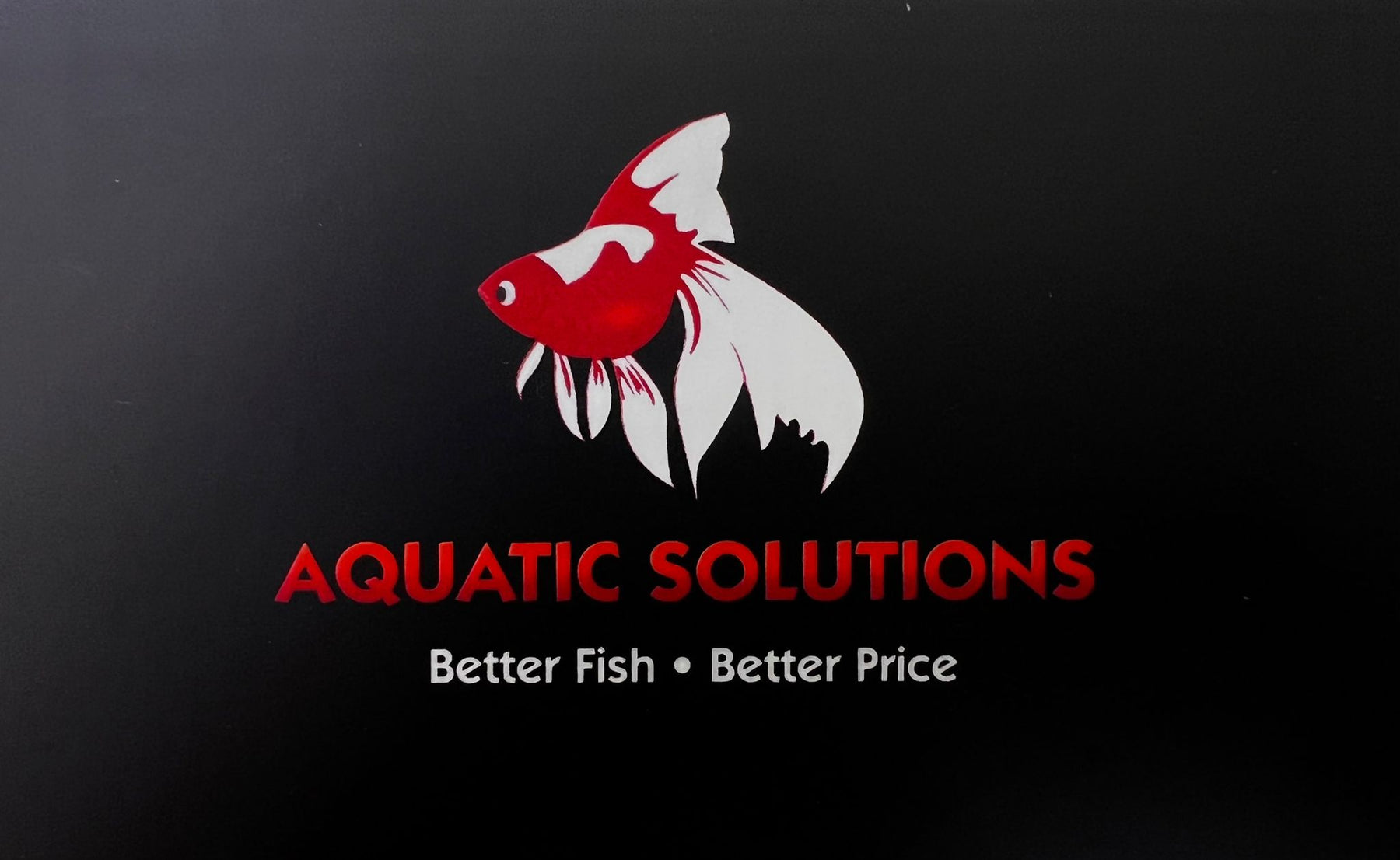 THE HISTORY OF AQUATIC SOLUTIONS
Hi, I'm Julian, current owner and director of Australian based aquarium fish wholesale company Aquatic Solutions. I was fortunate enough to buy Aquatic Solutions almost ten years ago now. Seeing as I have always been totally obsessed with aquatic life, particularly fish, it was a natural progression for me. I started my fish keeping journey a long time ago when I just kept a few pet fish, it didn't take long before I was breeding fish, then selling homebred fish, working in 
wholesale aquariums, buying an aquarium wholesale business and then finally buying an ornamental fish farm!
It has absolutely been a huge feat, with an unlimited number of hours worked to have got here, but I wouldn't have it any other way.
Aquatic Solutions was formerly known as L&N Pet Supplies. It began over 30 years ago by Len & Norma Williams. From what I have heard, Len was renowned for making glass aquariums from any kind of scrap glass he could get his hands on, many of which are still in operation, holding fish to this day!
Peter and Jennifer Begnell and their daughter Karen Nilsson took over the business after that, and I had the pleasure of working for them for several years, it was from them that I purchased the business in 2013.
Aquatic Solutions has continued to flourish and currently stocks one of Australia's biggest ranges of freshwater fish.
Over the years, Aquatic Solutions has been fortunate enough to be able to expand its arsenal of fish tanks via less than conventional means. As I am sure most of you can appreciate the cost of building brand new glass tanks is one of the biggest expenses when setting up. Coming from humble beginnings, this was just not an option for me. However, being an avid recycler/repurposer and handyman myself, I have continued the legacy of Len, and presently, Aquatic Solutions is comprised of a menagerie of close to 2000 tanks. Many of the tanks have come from aquarium stores no longer in business including the Strictly Aquarium group, Aquarium Empire, Strathfield Aquarium, Neotropical, Something Fishy, Sydney Discus World, Claws and Paws, SP Aquarium and Ace Aquarium. Myriads of aquariums have been donated from ex-breeders, hobbyists, friends, and family as well and even collected from the side of the road (saved from landfill). Many thanks to our resident veteran tank builder and all round handyman Dennis, who has a magical talent for repairing, refurbishing, and customising glass tanks to fit just about every square inch of the facility.
Being such a niche industry, so many things for the business have been custom and purpose built through many years of trial, error, and experimentation. Many ideas and techniques have been adopted from overseas fish farms and wholesale businesses abroad and recreated here in our facility making it unique and able to house well over 400 varieties of fish in prime condition and market ready. Our recent expansion into fish farming has meant we can now provide a continuous uninterrupted supply of some of the best and most desired fish in the hobby as well as exploring new species that are in short or intermittent supply. This combined with our ability to source, import and quarantine fish from some of the best farms and wholesalers in the world has meant Aquatic Solutions now dominates and services a huge proportion of independent aquarium and pet stores all over Australia as well as many educational institutions, schools, zoos and public aquariums.
In researching the history of Aquatic Solutions, I found that there was very minimal information. I did, however, come across this interesting historical record of Toy Fisheries in Homebush, Sydney. Please check out the following link and Facebook group.
I would be interested in hearing any stories and experiences from OG pioneers of the aquarium industry, so please share your stories here.
JMW International Pty. Ltd. t/as Aquatic Solutions