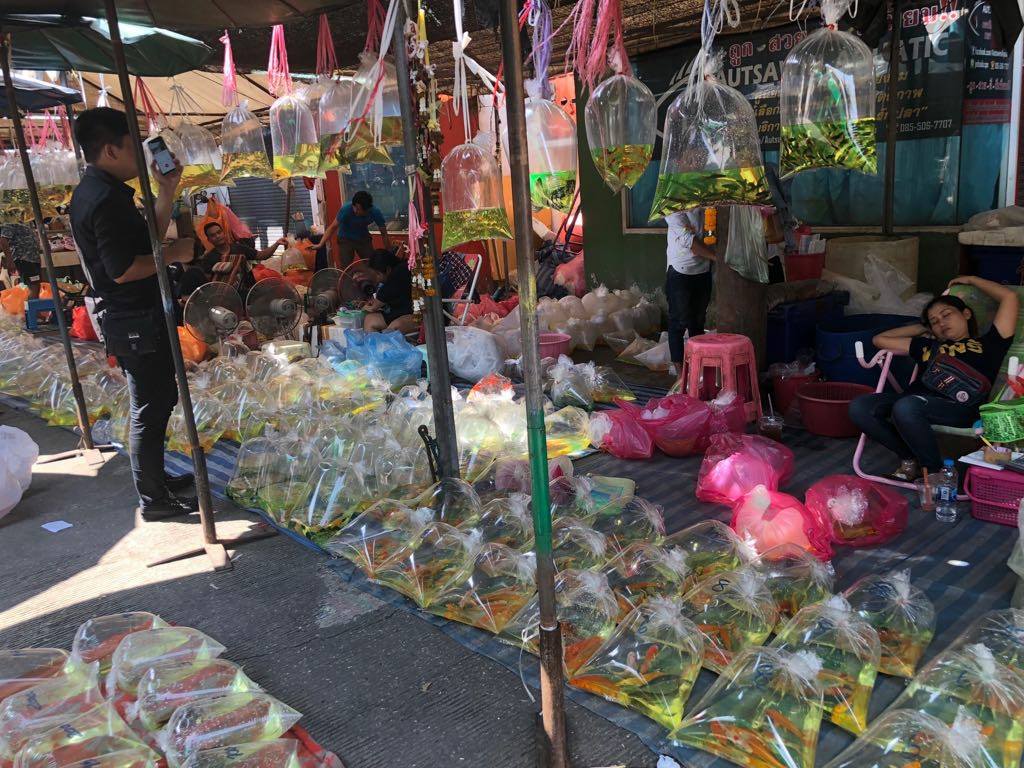 Visit JJ Market/ Chatuchak Weekend Market in Bangkok, Thailand
I just arrived in Thailand to visit some of my Thai suppliers and their fish farms. My first stop however was JJ markets, which is right next to the world famous Chatuchak markets (Bangkok's biggest market). I was surprised and quite impressed with the overall size of the aquarium section and the fact that it was so busy. This market is only open on the weekends and supplies the local domestic fishkeepers of Bangkok. If your keen like me I would allow at least 3-4hrs to check it out. This market then reopens on wednesday for the aquarium fish exporters, but as a tourist you must come on a weekend. Although most of the acessories were Chinese brands and not really that cheap they had some great homemade innovations such as bucket/barrrel filters aswell as some well made pvc fittings for larger tanks and ponds (see pics) both of which were quite cheap and could be easily made back here in Australia (if you are handy). The range of fish species was quite impressive with most facets of the hobby having a good representation. From nano aquascaped shrimp tanks to the ever popular Asian style of keeping mixed tankbusters of Arowana, Stingrays, Arapaima and other Amazonian giants. I was truly amazed at the quality of their bettas and showed my supplier the types and sizes that would be highly sought after in our Australian market for our future orders. The highlight of which was a new strain called "monster fancy koi betta". The intense red in the tail was absolutely outstanding (see pics). Other interesting discoveries included longfin tiger barbs in normal, green and albino, they were very cute! (See pics).
Day 2 saw us visiting the local public aquarium, Sea Life Aquarium Bangkok. This is the largest public aquarium in South East Asia and formerly known as Siam Ocean World. Every overseas trip sees me visiting the local public aquarium to discover their indigenous species and to get inspiration and ideas for my own personal aquaria. Once again Sydney's Darling Harbour aquarium has been shown up and left in the dust. Australia really needs a massive overhaul and facelift of all their public aquariums in order to keep up with the rest of the world and to draw more people to the hobby. We are so fortunate to have so many of the sought after fish on hand but lack the modern displays to highlight their beauty and diversity. Bangkok has indeed a first class aquarium and rivals that of Seoul, Korea in terms of the cleanliness of their water and both their unique and natural displays. Still on my bucket list is to see Japans public aquarium that houses the whales!
Day 3 began with a short 30 minute taxi drive to the outskirts of Bangkok to one of my suppliers house and farm to see first hand how my shipments are packed and how the fish are kept, prior to shipping. Interestingly most exporters here in Thailand have minimal fish held in their tanks long-term. Instead fish come ordered in for each shipment from all areas of Thailand and held for a couple days and up to 2 weeks for Australia (to meet AQIS requirements). Tanks are basic with only air provided. No filtration in tanks and water quality is managed by huge daily 70% waterchanges. Surprisingly fish look fantastic and active, with very few losses or sick fish. I then went to visit a few 'fish houses' these were family run holding facilities based in family homes. Most fish kept here were wild caught species both freshwater and brackish and from remote locations all over Thailand and even as far as Burma (more pics soon)
I think I have learnt some new secrets of the trade and have broadened my understanding of how things are done here in Thailand. Hopefully I will be able to apply some of them back home to improve our own holding and shipping procedures.
This concludes the first leg of the trip. Next stop is to Seoul, Korea to visit my wife's family and to visit some aquariums and public aquariums an then to travel south to Busan, visit their public aquarium and possibly sneak in a quick fishing session!
Julian Wong B.Sc. Hons JMW International Pty. Ltd. t/as Aquatic Solutions