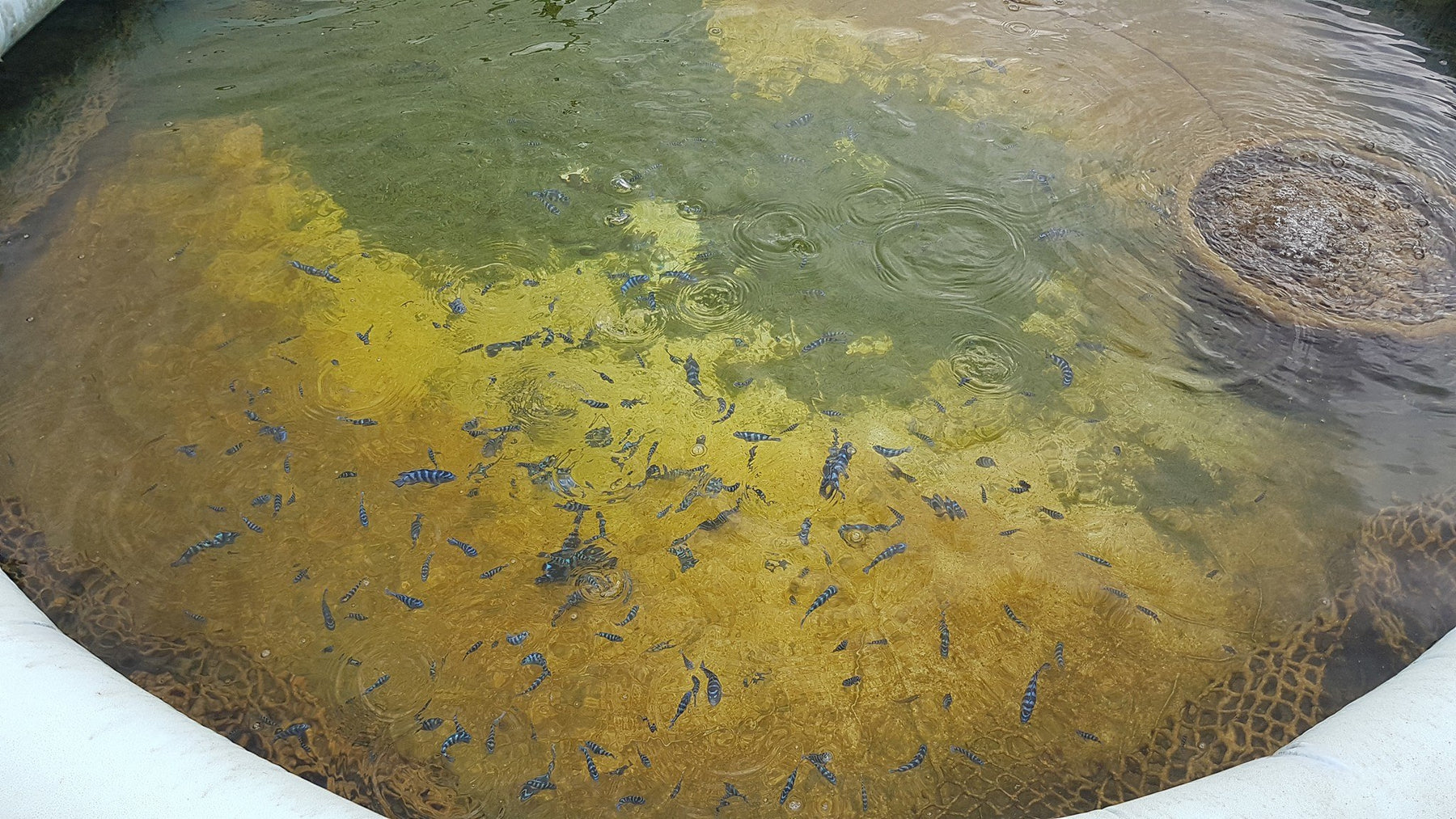 Visiting Cairns Aquarium
Having already travelled to far north Queensland some years back, i was hugely disappointed that there was no public aquarium open to tourists and locals alike, given this region is the backdrop for the world heritage listed Great Barrier Reef.
I was glad to hear, now on my second trip North, a large public aquarium was opened roughly 6 months ago. I knew this would be a definite stop for me and had my fingers crossed for a highly positive experience.
A large white building stood in front of me as i ran up the stairs to the entry, the first thing i noticed was 2 large fish "sculptures", as i got closer i realised these large fish shapes were made from plastics, ropes, thongs and rubbish, rubbish that had been collected and removed from the local beaches and used to make this artistic display of environment pollution education. Its one thing to preach about "saving the planet" but it was nice to see the first interaction at Cairns Aquarium was one that truly educated and took the idea of recycling to a whole, beautiful new level.
Straight on through to the tanks.. The first area was set up for Australian Fresh and brackish water fish, a patriotic start to an Australian attraction, as opposed to Melbourne Aquarium were i noticed different penguin species were the first point of contact, not that we don't have penguins migrating and breeding on Australian shorelines but i really think Cairns Aquarium had the foresight to highlight Australian river and estuary fish in a much better, first impression kind of way. Fish looked in good health and i noticed most tanks were far less stocked than either Sydney or Melbourne Aquariums. Rainbow fish, local to the region, swam uninterrupted around a cylindrical aquarium, highlighting the individual species rather than the decor of the "tank".
Through to the marine displays.. I had really high expectations of the salt water displays, given that Cairns aquarium is in ideal proximity to the Great Barrier Reef. Displays were nice, although i noticed a lot of reef fish not were not present or stocked very low. Angelfish seemed to be completely left out of any display, perhaps my eyes missed some but apart from two coral beauties and one lemon peel Angel i struggled to find any. A definite disappointment as angelfish are so active on the reef and such an integral part of the reefs cycles and coral spawning. Lipstick tangs and foxface stole the show, fat and healthy, darting in front of the glass as if to say "do you wanna take a selfie with me?!" Catalaphyllia, morph, brain and Duncan corals overtook the displays which i thought was a little basic again given their proximity to the natural reef. Although harder to keep corals were sparingly spotted, such as thistle and sun corals, they seemed in good health. An interactive area directed at kids was interesting and educational, i was impressed to see a range of sea apples and cushion stars on display there, rather than just your standard blue linka starfish. Watching cleaner wrasse pick at the many blue spot rays up close seemed to be a highlight for passing tourists.
All in all, Cairns Aquarium was definitely worth a look. Different enough from Melbourne and Sydney aquariums, staff were lovely, everything was clean, well maintained and flowed together well.