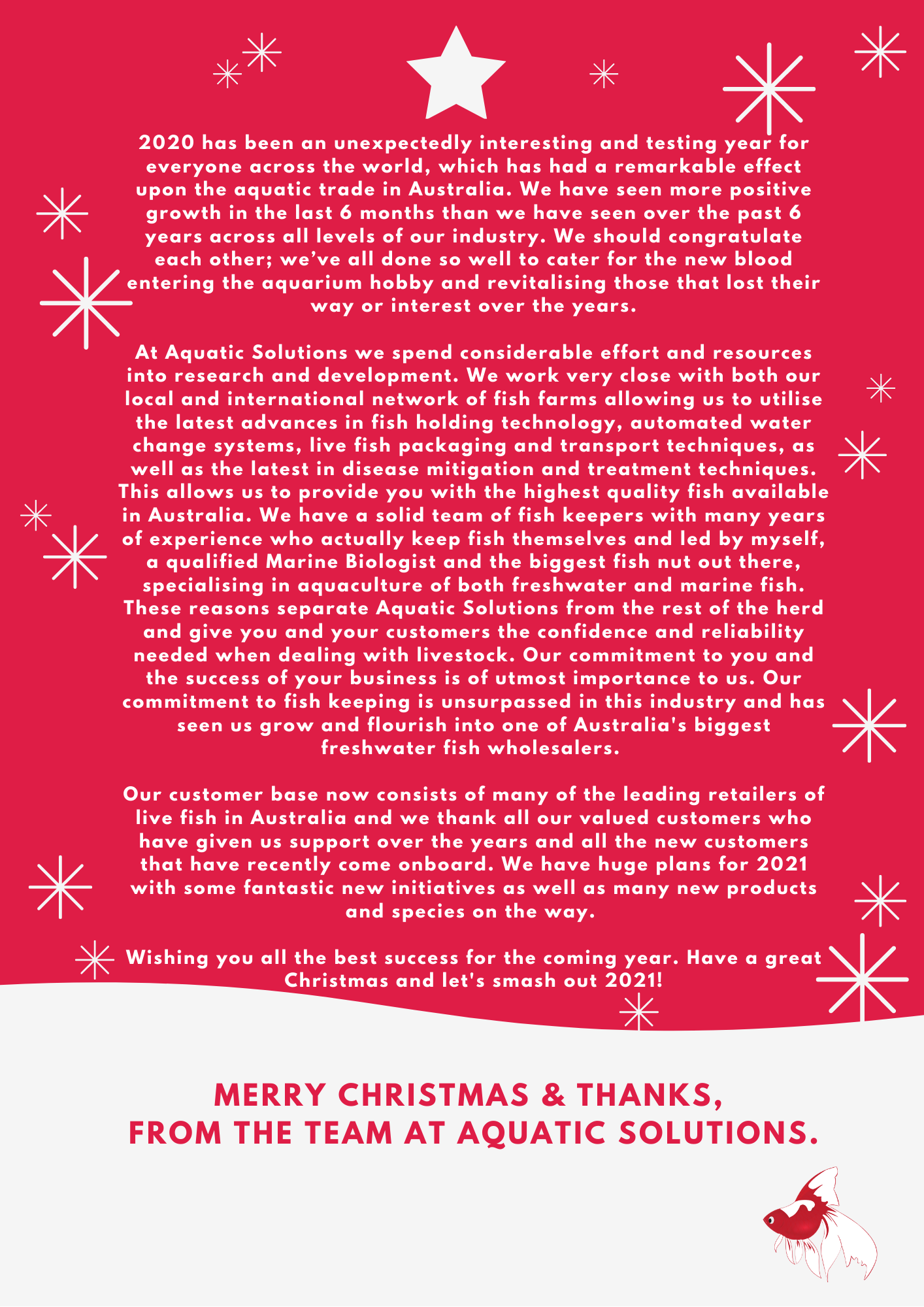 Signing off for 2020, here's to a hugely successful 2021!
2020 has been an unexpectedly interesting and testing year for everyone across the world, which has had a remarkable effect upon the aquatic trade in Australia. We have seen more positive growth in the last 6 months than we have seen over the past 6 years across all levels of our industry. We should congratulate each other; we've all done so well to cater for the new blood entering the aquarium hobby and revitalising those that lost their way or interest over the years.
At Aquatic Solutions we spend considerable effort and resources into research and development. We work very close with both our local and international network of fish farms allowing us to utilise the latest advances in fish holding technology, automated water change systems, live fish packaging and transport techniques, as well as the latest in disease mitigation and treatment techniques. This allows us to provide you with the highest quality fish available in Australia. We have a solid team of fish keepers with many years of experience who actually keep fish themselves and led by myself, a qualified Marine Biologist and the biggest fish nut out there, specialising in aquaculture of both freshwater and marine fish. These reasons separate Aquatic Solutions from the rest of the herd and give you and your customers the confidence and reliability needed when dealing with livestock. Our commitment to you and the success of your business is of utmost importance to us. Our commitment to fish keeping is unsurpassed in this industry and has seen us grow and flourish into one of Australia's biggest freshwater fish wholesalers.
Our customer base now consists of many of the leading retailers of live fish in Australia and we thank all our valued customers who have given us support over the years and all the new customers that have recently come onboard. We have huge plans for 2021 with some fantastic new initiatives as well as many new products and species on the way.
Wishing you all the best success for the coming year. Have a great Christmas and let's smash out 2021!
Thanks, from the team at Aquatic Solutions.